Anniversary Week
July 15, 2019 @ 6:00 am

-

July 21, 2019 @ 6:00 pm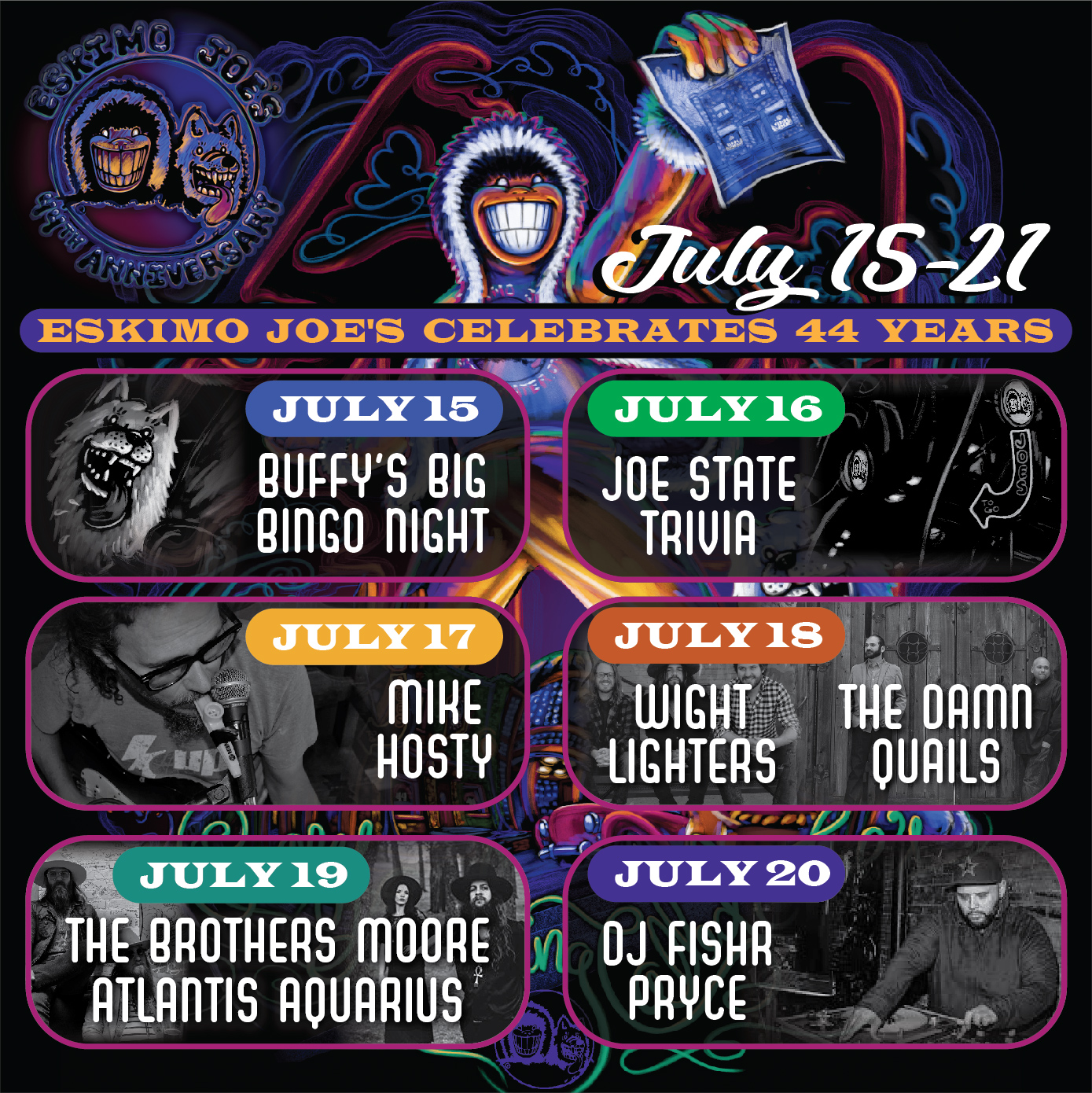 Join us for food and drink features and special events all week, including great live music and special Joe and Buffy visits 12-1 and 6-7 every day! You may be a winner just for coming in – check your silverware roll to see if you're a gift card instant winner or maybe have the chance to play Plinko or spin our prize wheel! 
Monday – Buffy's Big Bingo Night benefiting Special Olympics Oklahoma, 8pm
Tuesday – JoeState Trivia at 8pm
Wednesday – Unveiling of our new Pistol Pete / Eskimo Joe shirt design at High Noon, and OSU Coaches vs Cancer Celebrity Waiter Night, 530 to 730pm that evening, followed by a special edition of Wheel O Beer and music with Hosty One-Man Band at 10pm. Crazy Days shopping frenzy also starts this day – come shop our Reject Sale!
Thursday – More Crazy Days shopping at our Reject Sale, plus it's Kids' Night from 5-9pm including the activity table with Oklahoma WONDERtorium, followed around 10pm by The Damn Quails and Wight Lighters live for late night!
Friday – A special Folds of Honor schaolrship presentation during dinner and Atlantis Aquarius and The Brothers Moore in the Joe Dome at 10pm
Saturday – Annual Kids' Carnival sponsored by Dr Pepper (dress to get wet!) 9-12, and poster giveaway and signing in Joe's Clothes 11-1. Red Cross Blood Drive 10am to 4pm. DJ Fishr Pryce that night with a glow party!
Sunday – Birthday Cake at noon!
A few extra mentions: We've put together a special group of collectible items that are up for bid to benefit Folds of Honor Foundation and we invite you to check it out and tell your friends! Here's that link…
You also have the opportunity to round up your sales ticket and that money will be tallied all week to benefit the Oklahoma WONDERtorium!